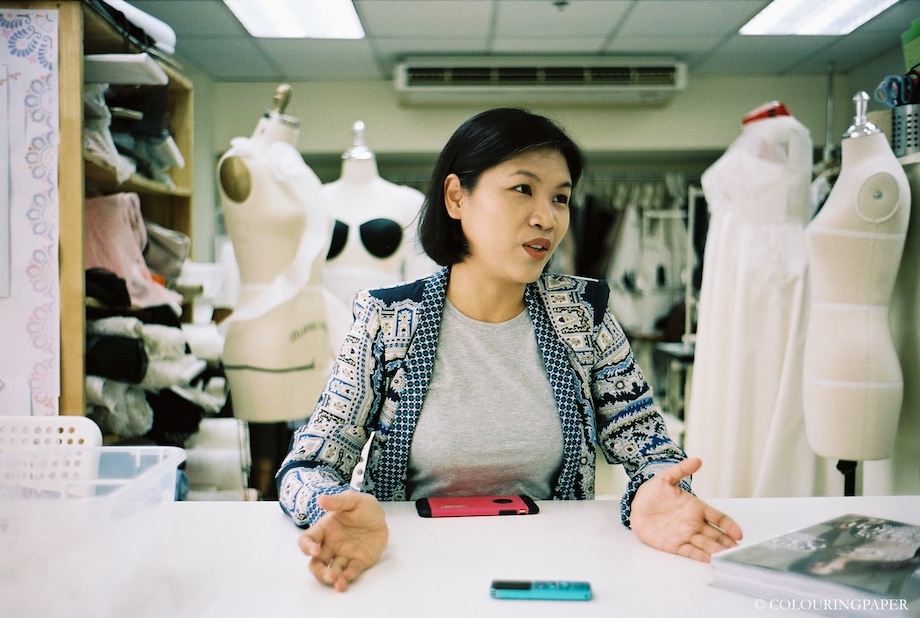 What exactly is my job? 🧐 I'm multitasking on many things! Let's see… I'm a fashion designer, I also teach fashion design, and I'm a fashion illustrator as well. In 2006, I graduated in Fashion Design from Fashion Institute of Technology, NYC. Previous work experiences were so many things that I've done! To name a few, I was working at the Fashion District in New York City for 5 years, with Zac Posen, Marchesa, and some private labels companies. I had my own couture wedding dress collection (Nhoo Matthews Atelier) for 5 years in Bangkok. Now, I teach private classes from my apartment in Bangkok and devote all my energy to my online tutorials and digital fashion illustration business. I'm Thai-American and currently living in Bangkok, Thailand.
A little bit of my background
Nhoo is my nick name that was given to me by my grandmother. I was born in Thailand in the period of the Thai Baby Boom so I have two sisters and plenty of cousins (mostly girls) living in a big extended family. I'm the eldest of my generation. The earliest memory of me doing a figure doodling was when I was 5 years old. I had never have an expensive toy but a pencil and some blank piece of paper were enough to keep me happy drawing. In high school and college years, I chose to study foreign languages (English-French) for my major. Then, when graduated, I was an English teacher in a business school for a year before I went to New York City.
New York, New York
I lived in the Upper West Side of New York City for 10 years. I arrived in 2002 and got married later the same year. One day, my husband saw me doodling a pleated skirt in a yellow Post-It note. He asked me if I had thought of studying fashion design. I was so surprised to hear that because I had never thought that was a choice for me at all. I remember responded to him "Can I do that?"
In Fall 2002, I took a Design Sketching class at Parsons, School of Design. It was one of the most memorable time of my life. In each session, we stood for 3 hours in front of a drawing desk and looked at a life model changing poses for every 1 minute, 5 minutes, 10 minutes, and 20 minutes. I had so much fun drawing the model poses. By the end of the semester, I now knew that not only I loved this but I was very good at it too!
I was accepted to Fashion Design program at F.I.T. in 2003 and graduated in 2005. My fashion career began as an assistant designer. I mostly worked on technical design tasks. Later, in 2009, I decided to go back to F.I.T. again to take specific classes that I felt important to me to pursue in couture fashion. I spent the year of 2009 and 2010 studying couture techniques, pattern making, and lady tailoring along with interning at couture houses like Zac Posen and Marchesa. I was later hired for an assistant pattern maker at Zac Posen and learned so much from there.
The Atelier and The Fashion Workshop
I returned to Thailand in 2012 with a plan to start my own wedding dress brand in mind. Then, I was asked by a friend to give her a Fashion Design lesson. I thought it would be fun to share my knowledge and experiences to others. I designed a course "Introduction to Fashion Design" to cater it to beginner level students. This is the beginning of "Fashion Workshop with Nhoo Matthews".
In 2014, Nhoo Matthews Atelier was open for business. During the time of the custom wedding gown business, not only I made wedding dresses for Thai customers but I had customers from India, France, Japan, Maldives, and etc. came to our store as well. Our business was small but exclusive. The brides were attracted by our unique design aesthetic which was feminine and playful individuality.
While I was busy working on my couture business, I still kept teaching Fashion Design during the weekend at my store. The students kept demanding me to teach them more and more subjects. So, the courses that I had been teaching so far include Fashion History, Sewing and Draping. Many students later became my interns and we produced some of the most iconic wedding gown for Thai celebrities. Take a look at some of the dresses we made in Nhoo Matthews Atelier. We closed our store in 2019.
The future is here
I came back to do what I love most which is fashion illustration and teaching. Since 2020, I spent time developing products to help people learn fashion drawing on their own. The products that I had produced so far were fashion figure templates (digital and sketchbooks), the book "The Art of Figure Templates, Shortcut to Fashion Drawing" (eBook and print), and Procreate Fashion Brushes. The respond of my products has been overwhelmingly great! I'm so grateful to be able to do this as a career.